How to make sure your wall coverings are clean, green and sustainable
As we look ahead to Earth Day on 22 April, we want to explore what sustainability means in the wall covering industry. From choosing wallpapers manufactured using wood from FSC-certified forests to checking the environmental credentials of your installation company, there are plenty of ways to ensure your wall coverings are as sustainable as they possibly can be.
Sustainability at Wells Interiors
At Wells Interiors, we do as much as we can to make our installations more sustainable. We use good quality tools that we can use again and again and are currently investigating ways to increase the recycling of plastic paste tubs across our sites. In order to reduce travel miles, we invested in a central London storage facility that is close to the majority of our projects and we mostly use bikes or public transport to get around. At our office, we recycle and use renewable electricity, but we know there is always room for improvement.
Sustainable wallpaper by design
One of the most important things you can do when planning a greener wallcovering installation is to check the environmental credentials of your materials. Although it is a very durable wallcovering, vinyl is manufactured using chemicals that are hazardous to the environment and emit VOCs, so you may want to choose paper or a renewable material like bamboo, linen and cork instead. These all make great sustainable wallcoverings and offer interesting and stylish finishes to your interior scheme. If sustainability is key for your project, you can choose papers that are printed using water-based inks or paints with minimal VOC content. In some cases, using a wallcovering product can reduce the number of resources needed and therefore offer a sustainable solution to the original product. For example, SanFoot® wood veneer wallcoverings are sourced from carefully managed, biodiverse forests and use very thin slices of wood that look like real wood veneer. Eco S-tile wallcoverings do the same but with natural stone and cotton backing. 
Sustainability in manufacturing 
Many luxury wallpaper brands now manufacture their papers from wood sourced from sustainably managed forests – look out for the Forest Stewardship Council (FSC) certification. Some even use recycled paper. You can also ask about what kind of fuels they use in their factories, how they minimise the impact of travel and distribution, and whether they use any plastic in their packaging.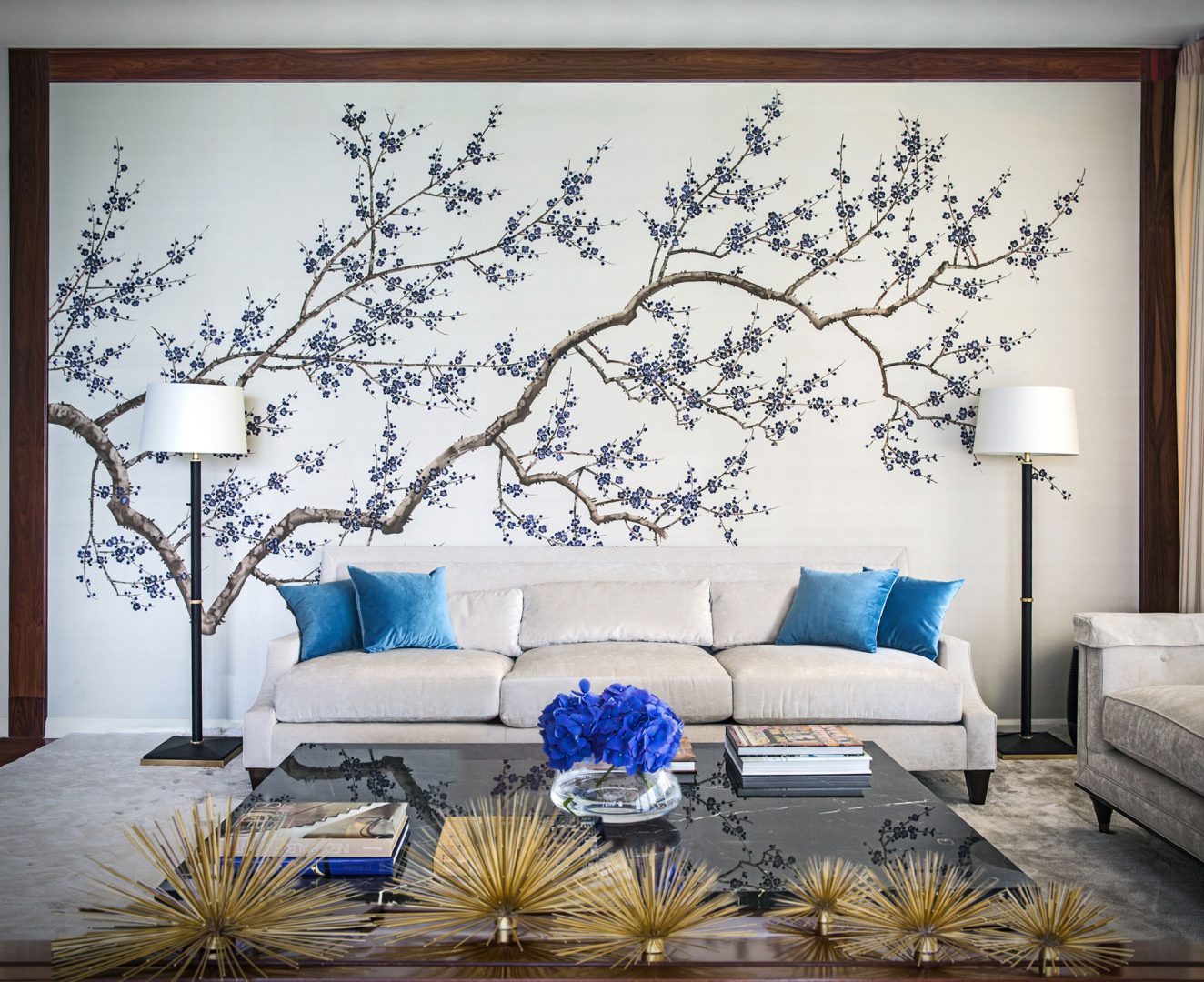 Fromental, Prunus in custom colourway on white silk. Installer unknown, please DM us to credit your work.
What wallpaper brands are doing to help 
Fortunately, it's not difficult to track down sustainable wallcoverings – big brands like Farrow & Ball and Little Greene are doing a lot to protect the environment and reduce pollutants. Farrow & Ball offer only vegan-friendly wallpapers, meaning that none of their paints, glazes or pastes contain any animal derivatives and have never been tested on animals. Little Greene source their paper pulp from sustainably managed forests in which four trees are planted for every one cut down, and they also offer solvent-free wallpaper paste.
Our partner brands
Many of our partner brands are making a huge effort to produce sustainable wallpapers. Fromental, for example, use traditional 'xuan' (rice) papers, which are manufactured using natural food by-products, and silk from domesticated silkworms, which is an inherently sustainable process. Phillip-Jeffries plants a tree for every order placed in collaboration with the Arbor Day Foundation, resulting in over 50,000 trees planted to date.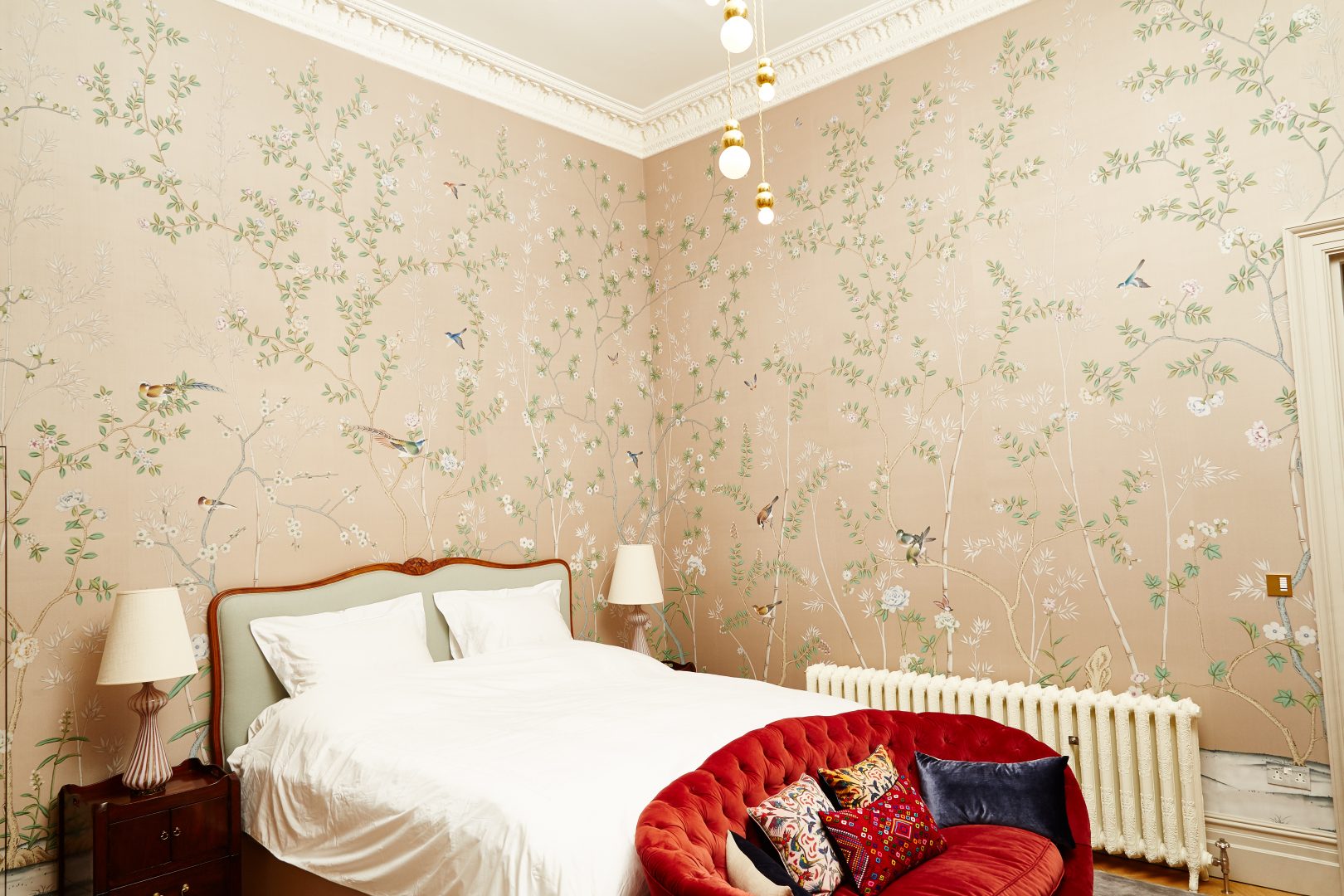 Wells Interiors Installation, de Gournay wallpaper 'Portobello' design
What can customers do to help? 
One important thing you can do as an individual consumer is to choose a high-quality, durable wall covering that will stand the test of time and ensure that you maintain and protect it properly. By minimising the number of times you remove and reinstall wallpaper, you will reduce the materials you consume and waste you produce.
What to do once you have removed old wallpaper 
As long as your old wallpaper doesn't contain vinyl or other plastics, you may be able to recycle it. However, as it will still have traces of adhesive on it, you cannot just put it in your household recycling. Contact your local household waste recycling centre to see if they will accept it.
What certifications to look out for when buying wallpaper
The number of acronyms involved in making a greener wallpaper choice might seem bewildering! We've covered FSC-certification above, but the Forest Stewardship Council is the only scheme that's endorsed by major environmental charities including WWF, Greenpeace and the Woodland Trust, so it's a really important one. UL Greenguard Gold certified ink is the world's toughest test for VOC emissions. And the Wallcoverings Association NSF/ANSI 342 standard evaluates all types of wallcovering products across their entire life cycle, from raw material extraction through end of life disposal. This tool helps you easily identify truly sustainable wallcoverings and make an informed decision in your next project.
If you have a project or an opportunity that you would like to discuss, please get in touch. Our team will be more than happy to assist you further.