Residential Wallpaper Installation
This is the lifeblood of our business and we take immense pride in installing wallpapers in family homes and private residences of all sizes. Our installers offer a fantastic level of personalised service and if clients are in residence during the project, we do our upmost to reduce disruption and to be a understated and respectful presence in the home. We love working directly for homeowners as well as interior designers and contractors working on their behalf. 
Wallpapers are often a big investment and will set the scene in a home for years to come, so you can rest assured that our team are experts at pattern layout and balancing the wallpaper around a room to give the most naturally and intuitively pleasing result possible with your chosen paper.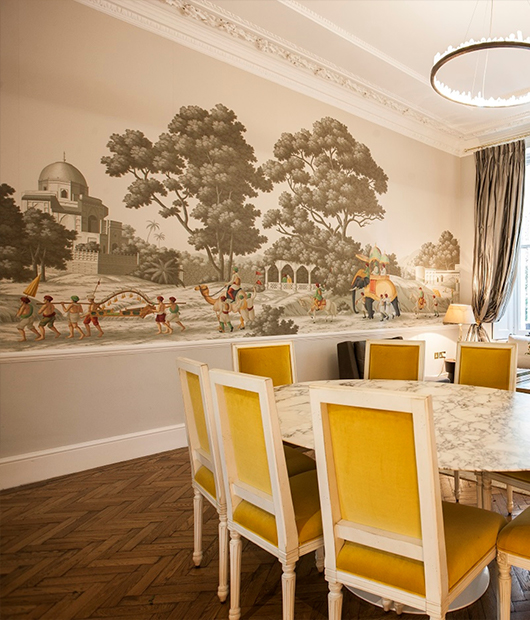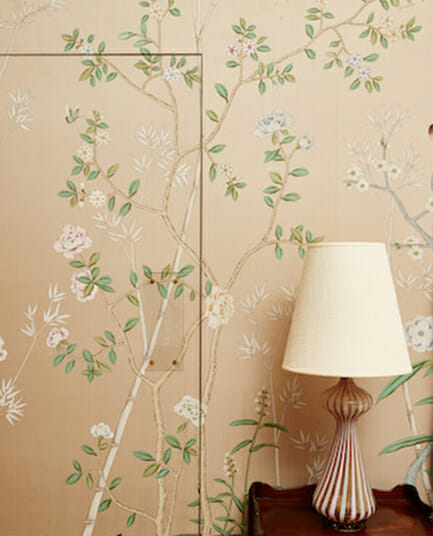 frequently asked questions
Here are the answers to a few of the most common questions we're asked about residential projects, but please get in touch if there's anything you wish to know that we haven't addressed.
What is the Wells Quality Guarantee?
We take great pride in the quality of our team's work and integrity is one of our key values. However, whilst our installers are the finest in the industry, they are also human. We maintain high standards by being the harshest critics of our own work and if there is ever a quality issue due to our workmanship, we will own up and rectify the issue at our cost and as a priority.
When should I schedule in the installation as part of my project?
We recommend installing wallpaper after all other trades have completed their work. Bulky furnishings that could damage the wallcovering(s) should be moved in first. Carpets can be installed before or after us. Soft furnishings and curtains should be safely out of the way, or installed after we are finished.
How do I prepare for my installation?
By your start date, please ensure that:
the work area is clear of all obstructive furniture. 

All other painting and decoration is complete. 

The area is free of other tradesmen or workers. 

The walls are prepared to a suitable condition ready for lining (i.e. all filling completed/walls made good).
Do you remove radiators and wall fixtures etc, and take down curtains rails?
No we do not, we recommend your contact a plumber or an experience handyman service for this. 
Do I need to remove all furniture from the room?
Ideally yes, but in reality we can work around small pieces of furniture if they can be easily moved by a single person.
Do I need to be at home/on site during my installation?
It is ideal to be at home at the beginning of the project to sign off layout and check you're happy with the first 3 drops. It is also ideal to be at home when our installer finishes so you can sign off their work. At other times it's not necessary to be on site.
Where should the wallpaper be delivered to?
Your wallpaper should always be delivered to site/your home. We cannot receive wallpaper orders unless expressly arranged.
What brands have you installed before?
Please see our Partners page for a list of brands we work with most commonly. If your chosen brand isn't there, please email info@wells-interiors.com to check.
How much space do your installer need to work in?
They need space to put up their table and move around the room freely. A minimum space of 3m x 3m is recommended.
How do we get the most accurate price for our tender?
Send accurate, to scale plans and elevations with the walls requiring wallpapering clearly marked, along with a wallpaper specification schedule. Our sales team are highly experienced with quoting for tender and will guide you through to the process to ensure our tender prices are very accurate to final.
What is the smallest and largest installation you'll take on?
We take on projects of all sizes – no project is too small – however our minimum charge is ½ a day. Our largest residential project to date was 26 rooms of Fromental - installed in one month. We do love a challenge and are happy to look at projects of all sizes.
What our clients say about us
Wells Interiors were recommended by Lewis and Wood. Mick was very efficient and personable when we spoke. He put me at ease as we were not at home and I had great faith in him. I would recommend Wells Interiors without a doubt for their professional and a can do attitude.
What our clients say about us
I have used Wells Interiors for projects many times and have no concerns or fears when working with them. They provide a quality, efficient and professional service with lovely on-site paperhangers achieving perfect end results and happy clients.
What our clients say about us
We are really pleased with the work. The whole team were polite, friendly, patient and skilled
What our clients say about us
Wells installers are very efficient, incredibly talented and their team were very good at keeping us in the loop with the status of the project. The end result was the best wallpaper I've ever seen applied.