Commercial Wallpaper Installation in London
Wells offers a highly refined service that guarantees an installation finished to the quality associated with your brand or establishment, along with the schedule and workforce flexibility and project management support that commercial projects demand.
Our approach to is to be as accommodating of schedule or access needs as possible, while at all times maintaining the integrity of the installation to ensure there's no compromise on the final finish. Our vast amount of experience on sites means that we can work effectively alongside other trades, delivering a premium finish within the context of a busy project. Plus the strength of our relationships with wallpaper brands & manufacturers means we're ideally placed to rectify any paper issues quickly and efficiently to minimise disruption to the project schedule.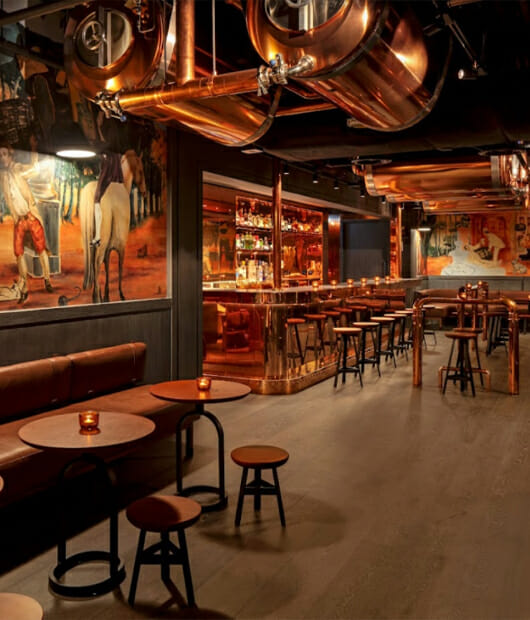 frequently asked questions
Here are the answers to a few of the most common questions we're asked about commercial projects, but please get in touch if there's anything you wish to know that we haven't addressed.
What is the Wells Quality Guarantee?
We take great pride in the quality of our team's work and integrity is one of our key values. However, whilst our installers are the finest in the industry, they are also human. We maintain high standards by being the harshest critics of our own work and if there is ever a quality issue due to our workmanship, we will own up and rectify the issue at our cost and as a priority.
Will your team work at night or weekends?
We will do occasionally work on Saturdays, but we do not take on overnight work. Wallpaper installation takes 100% attention and mistakes are highly costly,  so ensuring our installers get sufficient rest is key to us.
Is it always necessary to line walls?
Not all wallcoverings require lining, but if lining is included in your quote then we believe your chosen wallcovering will look best if the walls are lined first. Lining creates an excellent substrate to start installing wallcoverings on and leads to a better, longer-lasting finish.
Do you have a health and safety procedure?
Yes, please ask our Sales or Project Manager for details.
Are you registered for CIS?
Yes we are, however we have gross CIS status.
Do your team have CSCS cards?
Yes, all installers have CSCS cards.
Can you quote to supply and fit?
Yes we can, please let the sales team know you'd like us to quote for both.
Do you operate the domestic reverse VAT system?
Yes, we do for all projects that this VAT rate applies.
Do you quote from plans?
We will provide an estimate from plans as long as they show accurate measurements, elevations and all cabinetry details. As reality can sometimes differ to plans, we would recommend working on a final adjustment +/- 10% following an eventual site visit. 
How do we get the most accurate price for our tender?
Send accurate, to scale plans and elevations with the walls requiring wallpapering clearly marked, along with a wallpaper specification schedule. Our sales team are highly experienced with quoting for tender and will guide you through to the process to ensure our tender prices are very accurate to final.
What our clients say about us
Working with Wells significantly reduced the stress of installing the large quantity of specialist wallcoverings this project involved. They helped us with supply and then project-managed their own work and schedule so we were free to focus on the many other demands of the development.
What our partners say about us
As a trusted partner of Inspired Surfaces, Wells Interiors are recognised as a specialist installer of SanFoot® Real Wood Veneer, and we will continue to enjoy working with them on future projects.
What our clients say about us
I highly recommend Wells Interiors, they are very professional and the quality of their work is second to none. I've used them on a few projects now; everyone is a pleasure to work with and they are very accommodating when last minute changes are made
What our clients say about us
We were introduced by another contractor we collaborated with in the past… Throughout the project Wells communicated well and sent updates with photos and any issues that need to be resolved. They are reliable professionals with a friendly attitude and strong, clear communication.
What our partners say about us
From his earliest steps in the trade Mick Wells demonstrated equal measures of intelligence and practicality. Fast forward more years than I care to think about and he has very wide experience and considerable skill which enables us to recommend Wells with great confidence, even for our most complex installations.