Creative & Unique Projects
With more wallcoverings on the market now than ever before, we help our clients realise their dreams, however unique, experimental or simply tricky; there's no need to let concerns about installation hold you back.
From the first call our sales team can advise on the practicalities of your plans from an installer perspective and suggest a plan of attack based on more than a decade of experience working with the most challenging wallcoverings. If need be we can arrange a test install to check the viability of the wallcovering and substrate before you commence with large orders and we will work hand in hand with any other craftsman involved to ensure the project is completed to the highest quality.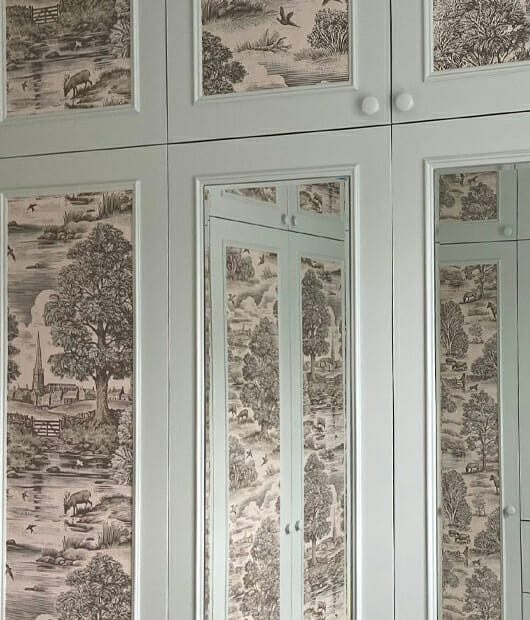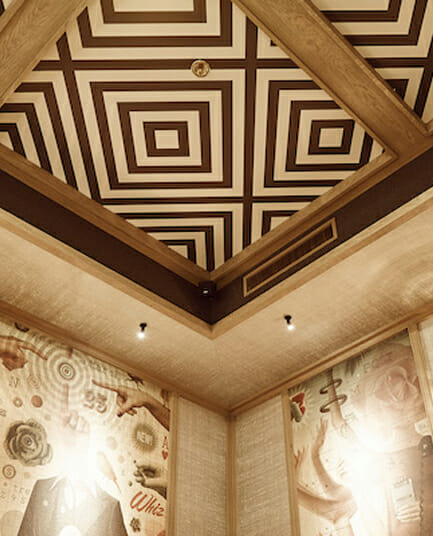 frequently asked questions
Here are the answers to a few of the most common questions we're asked concerning creative/unique projects, but please get in touch if there's anything you wish to know that we haven't addressed.
What is the Wells Quality Guarantee?
We take great pride in the quality of our team's work and integrity is one of our key values. However, whilst our installers are the finest in the industry, they are also human. We maintain high standards by being the harshest critics of our own work and if there is ever a quality issue due to our workmanship, we will own up and rectify the issue at our cost and as a priority.
Can you advise on wallpaper suitability?
Yes, we're more than happy to give our thoughts on suitability of selected wallcovering. In fact we would always highlight if we think a chosen wallpaper is unsuitable for the designated area.
Do you have a workshop?
We have a small workshop space in Suffolk.
What brands have you installed before?
Please see our Partners page for a list of brands we work with most commonly. If your chosen brand isn't there, please email info@wells-interiors.com to check.
Can you quote from miniatures?
We will provide a very close estimate from plans but would firm this up after a site visit.
Can you do test samples of new wallcoverings?
Yes, we're very happy to test wallpaper samples of new or unusual wallcoverings.
Do you travel for projects overseas?
Are you available for promotional or charity installations?
We set aside time for a limited number of discounted installations each year. Please contact marketing@wells-interiors.com if this is something you're interested in.
What address should I send samples to?
Please see our contact page for our location addresses. If for a quote, please send to Sales in Suffolk, if your project is in progress and you need to send to our Project manager, please send to our London address.
Can you quote to supply and fit?
Yes we can, please let the sales team know you'd like us to quote for both
How much wallpaper do I need?
We will work out quantities for you, however if you want to work out rough estimates yourself, here is a downloadable quide to quantifying for you to use.
What our clients say about us
Wells Interiors are responsive, flexible and solutions-focused. They are a pleasure to work with, highly professional and do a great job.
What our clients say about us
The service was great and the hanger did a sterling job of dealing with a difficult paper!
What our clients say about us
It's all looking so lovely, thank you, and I'll definitely be using you again when I next have an intricate job like this that requires experts such as you! You've been wonderful.
What our partners say about us
From his earliest steps in the trade Mick Wells demonstrated equal measures of intelligence and practicality. Fast forward more years than I care to think about and he has very wide experience and considerable skill which enables us to recommend Wells with great confidence, even for our most complex installations.