How to accurately calculate how much wallpaper you need
You might have thought choosing your wallcovering from a cornucopia of beautiful options was the hard part! But correctly calculating wallpaper quantity is equally important. No one wants to spend more than they need to, but failing to buy enough meterage can negatively impact precise pattern matching or even cause major delays to your refurbishment if you order short.
A step-by-step guide to calculating wallpaper quantity
We've created a handy wallpaper quantifier to help quickly assess how much wallpaper to buy. Recently, we shared this guide with our email subscribers, and, as it was so popular, we decided to share more detail with you all. 
So, we've put together step-by-step instructions to help you accurately measure your wallpaper quantity while also understanding how to consider pattern repeats.
Step 1: Measure the wall
Start any wallpaper calculation by measuring your walls to the nearest centimetre. You can do this with a professional metal tape measure, but you might find it faster and easier to use a digital laser measure. Be as accurate as you can and keep notes as you go. Unless there are an excessive number of windows and doors, measure across them as if they are part of the straight wall. If the windows or doors have reveals (i.e. they need to be wrapped in) it is essential that you take them as being part of the wall because you will use a similar amount of paper to create a neat finish.
Step 2: Calculate your quantities
First work out the number of drops (i.e. the length of wallpaper from the skirting to the ceiling) per roll. You do this by dividing the wall height by the vertical repeat, rounding up the figure, then multiplying the number of repeats by the vertical repeat figure to determine the length of one drop. Dividing the length of the roll by the length of one drop will give you the number of drops per roll. Then work out the number of drops required for the room by dividing the wall width by the wallpaper width and rounding up. Dividing the number of drops required by the number of drops per roll will give you the number of rolls you need to order.
STEP 3: ACCOUNT FOR VERTICAL REPEATS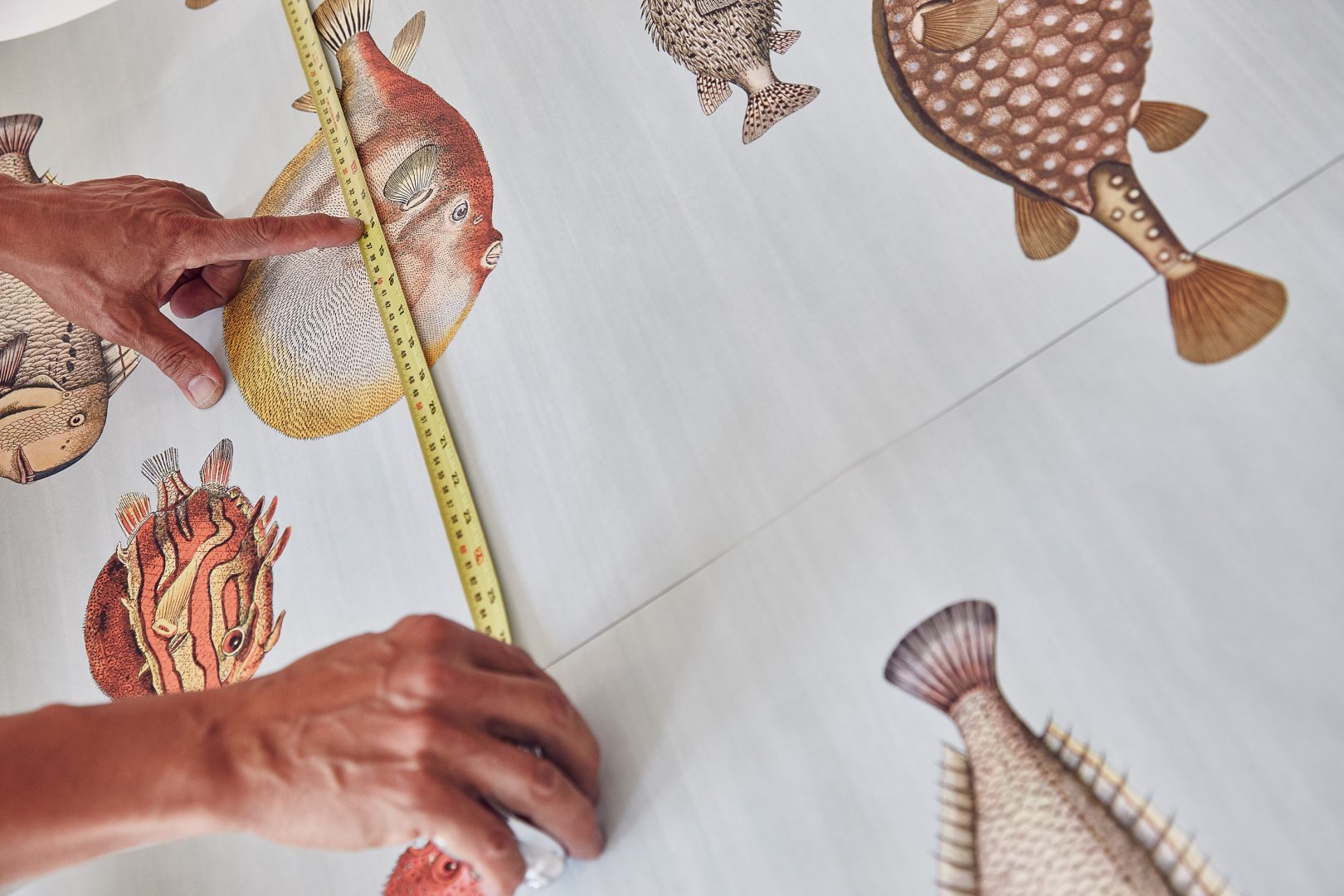 Each wallpaper will have a different vertical repeat measurement. You can usually find them on the manufacturer's website, in the catalogue and/or on the wallpaper's label. These repeat measurements can make a massive difference to your wallpaper order. A very regimented and complex pattern with a large repeat measurement could require double the number of rolls as a 'random match' paper. The key to correctly quantifying wallpaper is to always round up to the next repeat. For example, if you have a wall height of 3 metres and a vertical repeat of 50cm, you may think that six repeats per vertical drop will fit perfectly. However, you will need to allow for what's called a 'salvage' at the top and bottom as walls are very rarely perfectly square. You, therefore, round it up to the next repeat, i.e. seven repeats per drop.
Top tips from the professionals at Wells Interiors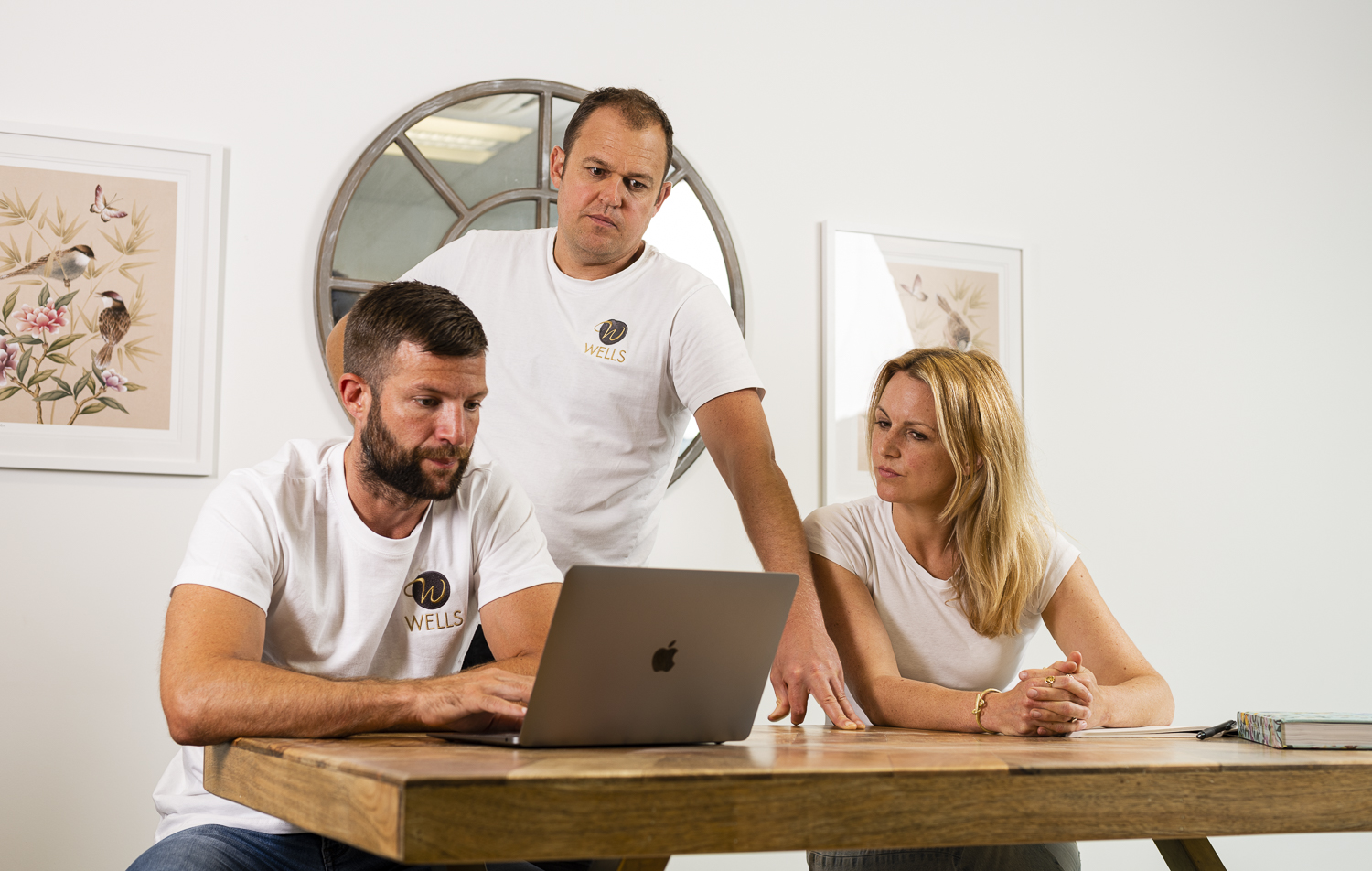 Never scrimp on wallpaper quantities! It's often best to order a good 15% extra in order to give your installer as much flexibility as possible and secure the best finish. The more paper available, the more layout options your installer will have, which will allow him or her to balance the overall look of the walls better and work around any colour or pattern irregularities. Check and double-check your measurements! And before you place your order, ask your installer to double-check your quantities for added peace of mind. 
If you're looking for a wallpaper installer who can provide expert guidance and impeccable customer service every step of the way, please don't hesitate to get in touch.