5 MINUTES WITH MARIA & EKATERINA AT MEYSTYLE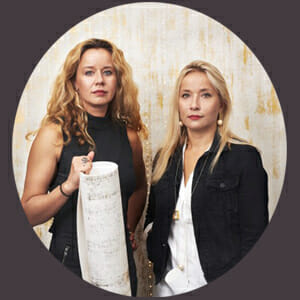 Maria and Ekaterina were born in Moscow, Russia but grew up in Oslo, Norway. However it wasn't long before their shared passion for creative design led them both to study at Central Saint Martins, London, which sewed the seeds of their future collaboration.
The sisters have a fascinating background in creative design, with experience spanning surface and textile design to creative practice for narrative environments. Their focus on combining design and innovation led them to turn Maria's university project into a fabulously unique wallcovering brand that continues to thrive and excite interior fans today – 14 years later!
Q1. Integrating LEDs into wallcovering design is totally unique and visually stunning. How did you come up with the idea?
"The first LED Wallcovering was created as part of a university project in 2004. It had 99 LEDs – the concept has been constantly refined since. "
Q2. How easy was it to go from prototype to a product you could take to market?
"It was a gradual process. Ekaterina and I did not think about it too much at the time. Taking things as they come and not overthinking is a big advantage. People wanted to buy it and we made it to the best of our ability and better each time!"
Q3. What has been your favourite project to date?
"This is a good question but a difficult one to answer. There are so many we love!"
Q4. Do you have any of your wallcoverings in your own homes and if so, which ones?
"Of course we do. We believe that if you don't want to have it in your own home, why would anyone else want it?
Unfortunately, not living in a palace – we had to choose just a few. 'Dark Mosaic' in Silk behind glass made a fantastic splashback in the kitchen. 'Golden Resistance' in the dining room, 'Scarab' in the hallway, mysterious 'Maya Storm' as a feature in the living room."
Q5.  What has been the biggest inspiration to you over your career in design/luxury interiors?
"In our design journey we are mainly inspired and guided by intriguing concepts, harmony and mystery in nature, new technological developments in the world of science and perplexities of living."
Q6. Maria and Ekaterina, you are sisters as well as business partners. What do you feel is the secret to running a successful family business?
"Patience! Honestly, we feel that it is such an advantage. We can be honest with one another, so decisions don't take a long time due to unnecessary procrastination. And talking about work after work… Of course, respect and understanding are a must."
Q7. What has been your biggest lesson or challenge as you've grown and developed a larger team (especially of non-family members)?
"The biggest challenge would be to realise that although highly qualified, not everyone is as passionate and dedicated – the qualities we feel any employer would value the most."
Q8. What is the next big thing we should look out for from Meystyle?
"OLED Wallpaper. After making the world's first LED wallpaper, technology has finally caught up with our ambitions, allowing us to make the world's first OLED wallpaper in collaboration with LG Display.
The collaboration is a synthesis of technology and creative application and a testament to what can be achieved when mixing design with ground-breaking development.
OLED (Organic Light Emitting Diode) is an organic material-based surface light source. Among all high-efficiency/eco-friendly lighting sources, OLEDs have the closest spectral power distribution to natural light. This creates emotional comfort and is ideal for places where natural light is unavailable or for places where quality light is needed.
Registering our new trademark – "When Light Becomes Material" is a new beginning for Meystyle in exploring a new exciting pass to discover LIGHT as a material and beyond."
Q9. How is it best for interior designers to discover more about your ranges?
"Follow us on Instagram as this is the platform we use the most to post news and updates. Although, if you are interested to see all designs in the collection and have a better understanding of the product you should for sure look at our website.
However, no digital image is able to convey the texture and feel of the natural materials and handmade elements. So, going forward we would always recommend ordering samples or better still visit us in our studio!"
Keep up to date with Meystyle's projects on Instagram and Pinterest.