meet vanessa Barneby of barnEby gates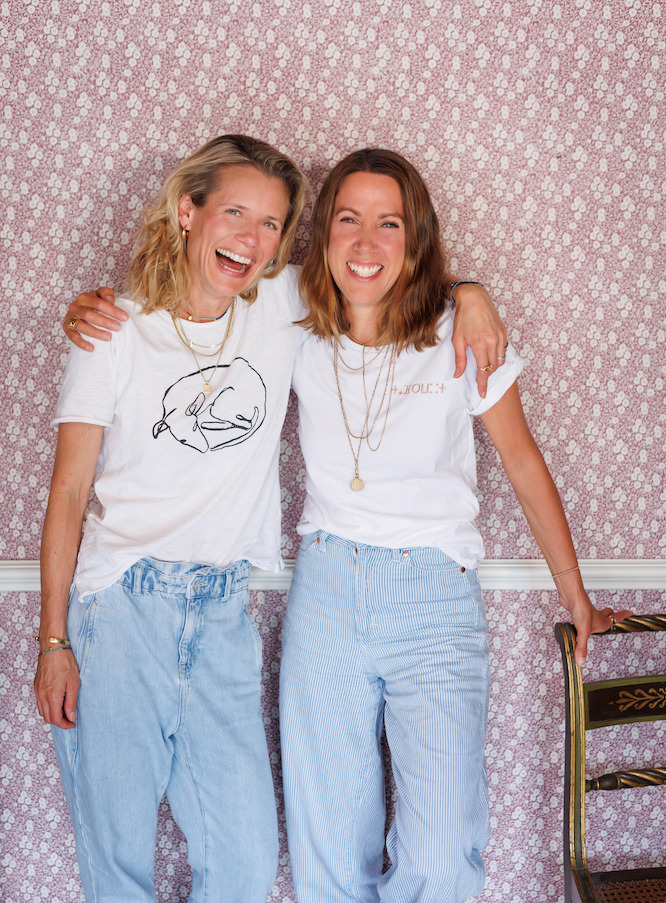 Barneby Gates is a UK based wallpaper and fabric studio; the brainchild of lifelong friends, Vanessa Barneby and Alice Gates. Known for their diverse range of prints, combining traditional techniques and historical reference with a fresh, contemporary twist – and we're talking hot air balloons, lemons, lightening bolts and watermelons!
Established in 2009, the stars signed and they combined their careers; Vanessa's Interiors Editor roles at House & Garden and British Vogue and Alice's figurative painting course in Italy and an MA at the City & Guilds of London Art School – these ladies are high achievers!
This Autumn sees the union of fellow British brand, Burleigh, in a collaboration that celebrates timeless craftsmanship and innovation. Jim Norman, the MD at Burleigh says, "Burleigh's iconic designs have graced homes around the world for over 170 years and with this collaboration we're bringing a new life to the brand in a way that our founders may never have imagined. This collaboration with Barneby Gates follows and compliments the launch of Burleigh's collaboration with Jackfield tiles, giving Burleigh fans another way to enjoy its' iconic designs."
Here's our interview with vanessa…
In your previous role as Interiors Editor at Vogue, do you think fashion is an important influence on interiors?
Part of my role at Vogue was predicting and writing about trends in design and examining the correlation between fashion and interiors. Fashion and interior design are interconnected at multiple levels – they both work with the same elements for starters, and they're intertwined with broader shifts in culture. But fashions change so fast and I strongly believe we shouldn't allow these bi-annual trends to influence the way we live. We should be creating homes that are timeless, not something we'll tire of in a year or two.
Do you have a favourite wallpaper in your barnaby gates range? If so, which one?
Generally it's the last one we worked on! At the moment it's the Burleigh X Barneby Gates Asiatic Pheasants in China Blue – which matches my Burleigh wedding crockery perfectly [below].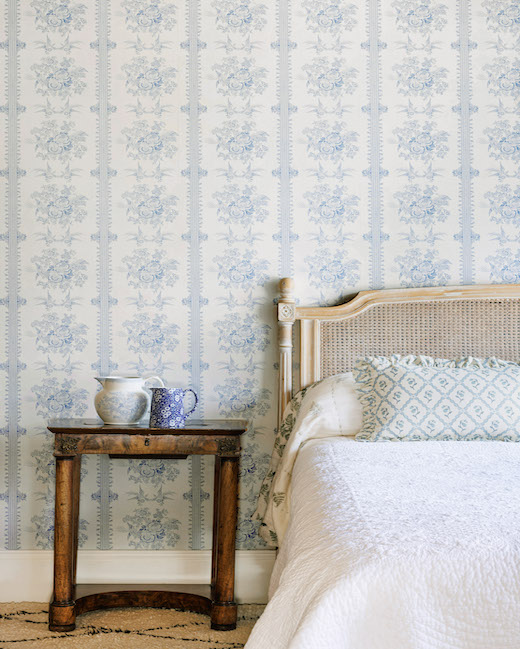 WHEN DESIGNING, DO YOU FOLLOW 'TRENDS' AS SUCH OR DO YOU NOT THINK THERE ARE INTERIOR TRENDS/MOMENTS IN THE SAME WAY AS FASHION?
We really try not to follow trends. It's important that our designs stand the test of time, and appeal to people of all ages. Of course certain things become popular, and sometimes it can be fun to play around with a look that's fashionable and cool, but essentially we strive to create designs that will still be relevant in 10, 20, even 50 years time
PLEASE TELL US ABOUT YOUR COLLABORATION WITH BURLEIGH. HOW DID IT COME ABOUT? INSPIRATION? IS PART OF THE APPEAL THAT YOU'RE BOTH BRITISH, HAND-CRAFTED BRANDS?
I've been a fan of Burleigh's beautiful pottery for as long as I can remember – I can still see the Calico ware on my grandparents' kitchen dresser in the 80's, and when I got married in 2005 the Asiatic Pheasants crockery was top of my wedding list, and I've been collecting it ever since. So really this collaboration was a dream for me. As two British brands who share the same core values, and honour traditional craft techniques, the relationship has felt symbiotic from the start. Learning from Burleigh about the ancient art of tissue transfer printing from hand-engraved copper rollers was completely fascinating, and it felt like a good challenge to transpose their iconic designs onto wallpaper – and I can happily say that the results far exceeded our aspirations.
ARE YOUR WALLPAPERS SUITABLE FOR WALLS, CEILINGS, JIB DOORS, JOINERY ETC?
Yes absolutely! I adore a wallpapered ceiling – particularly in a small room like a downstairs cloakroom – It's like stepping into a jewellery box. And I also love wallpapered cupboards – papering the panels of cupboards after you've done the walls is an excellent way of using up the left-overs too.
What made you go for non-toxic organic pigments?
A sense of responsibility towards sustainability is a vital part of running a business of course, and choosing non-toxic pigments is important for both the environment and the people in it.
Dream collaboration for 2024?
I'm just concentrating on one dream collaboration at a time, so for the moment it's Burleigh X Barneby Gates!
Where do you see the future of wallpaper heading?
Since we launched in 2010, it's been wonderful to see people using wallpaper more and more. There was the dreaded 'feature wall' trend which I was happy to see the back of, and I've enjoyed seeing our customers get bolder with their use of wallcovering. At last it feels like we've gone full circle, and we're back to the Laura Ashley days of wallpapering everywhere and matching the fabric to the walls too. Long may it last!
Would you agree that the hanging/installation process is key and needs to be done properly to allow your wallpapers to look their best?
Without a doubt! There are so many things that can go wrong at this point – an experienced wallpaper installer is absolutely VITAL. We sell our own brand paste now because we've seen so many decorators destroy the wallpaper by using something that's too harsh or that hasn't been mixed properly on site. Over pasting can cause the paper to rip, under pasting can cause the seams to lift, getting paste on the surface of the paper can cause indelible marks, too much shrink back, overlapping seams, the list is endless! There are a lot of cowboys out there who say they can wallpaper, and it's quite heart breaking when a customer comes to you for help having been ripped off by someone who's trashed their beautiful wallpaper before they can even enjoy it!
How should your papers be cleaned/looked after? Top tips for making them last.
They are actually amazingly durable once up on the wall, and light marks can generally be gently wiped with a damp cloth – or baby wipes are excellent! For high traffic areas in commercial spaces, we often recommend a Polyvine product called 'Decorator's Varnish' in the Dead Flat Finish (super important to use the Dead Flat finish so as not to affect the finish of the paper). This can be applied to the paper once it's up on the wall, and just gives an extra layer of durability.
Please describe your wallpapers in three words.
Fun, timeless, feel-good.
Burleigh X Barneby Gates wallpaper will be available on www.barnebygates.com. The collection will retail at £135 per roll.
© Ben Phillips Photography