A note from the Interior Designer behind the bathroom, Marie-Noelle Swiderski.
"I was approached by the client, whom I have known for more than twenty years, to reinvent her London Little Venice pied-à-terre; a flat I used to attend parties at a lifetime ago! 
I did indeed take a completely objective and fresh look at the property, freeing myself from the space as I had always known it and any assumptions about it.  The layout was very traditional and rather inefficient, with no flow and a lot of wasted space. Even though there were two bedrooms and two bathrooms, none of them were interesting nor indeed elegant. The client leads a very nomadic and exciting professional and personal life between Scandinavia, Europe and the US, horseback riding in the Mongolian Steppes and scuba diving in The Bahamas. That, coupled with her Japanese American heritage, explains the rich and varied collection of artefacts her London residence has always displayed, which was to remain an integral part of the decor, irrespective of the changes to be made to the layout and interior design."
Brand installed
Meriguet-Carrere
Project Type
Private residence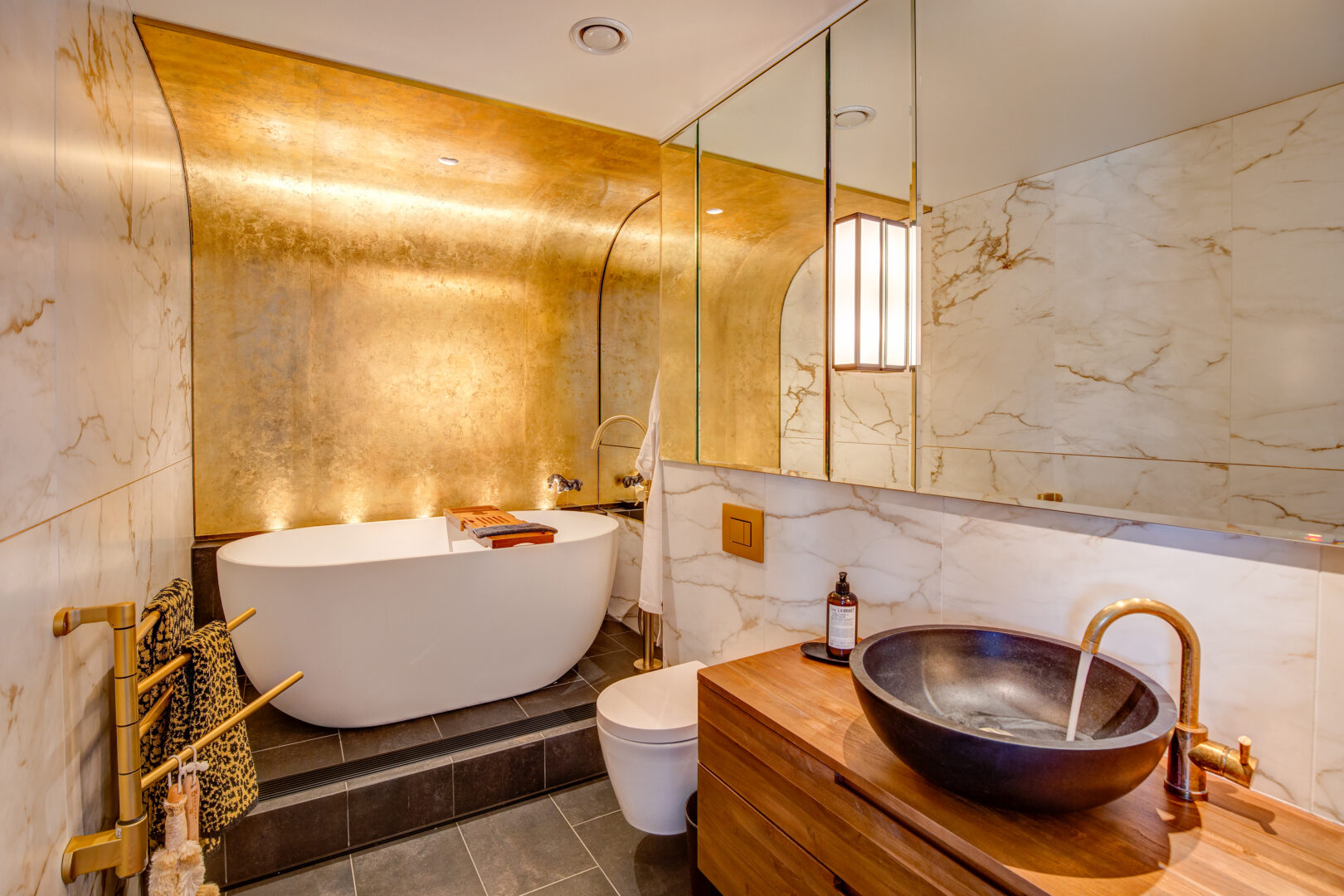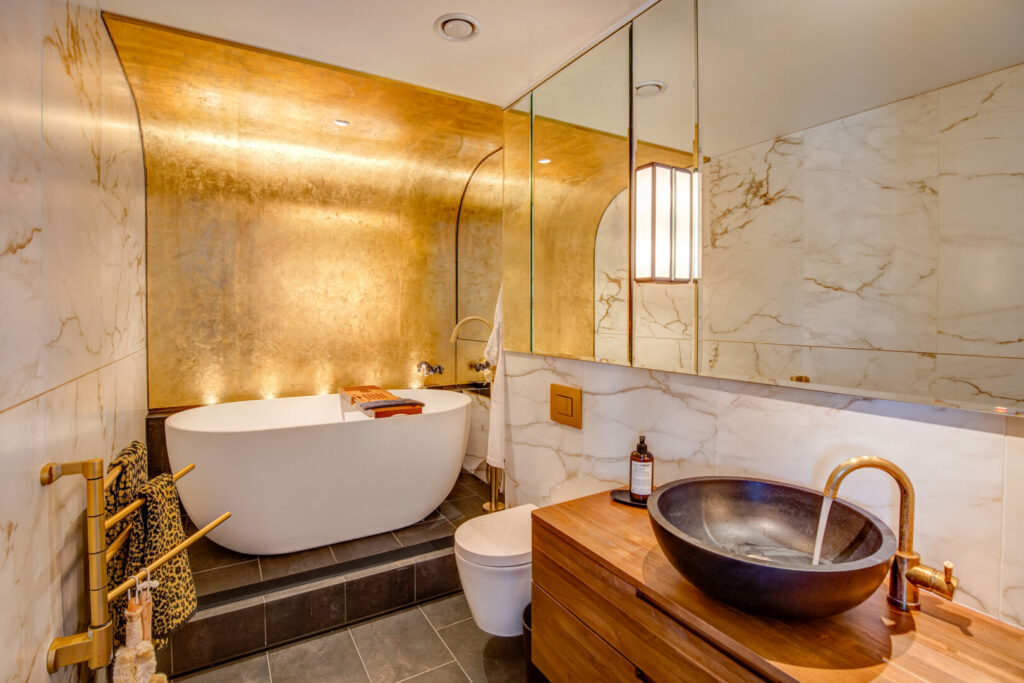 Aside from being a keen and talented cook, globe-trotter, scholar, art collector and avid reader, the client loves taking baths and in particular within the parametres and philosophy of the Japanese onsen bath tradition. Her ensuite bathroom was therefore to be a particular focal point within the space – a destination in itself. In very close collaboration with the client, we imagined a true sanctuary, quite literally a bath alcove that could embrace the vessel and cocoon it within an ambience of luxury and refinement. We sourced a compact but very comfortable and feminine free-standing bath, elegant yet simple tapware and wrapped it all, quite literally, in gold leaf. That is to say, we discovered and sourced an applied burnished gold leaf wallpaper from Meriguet-Carrere in Paris – and a clever, clear varnish to protect it from moisture and splashing. The wallpaper was installed on the curved wall, wrapped upwards and over the bath, reverberated alongside the golden veined marble-effect porcelain wall tiles on the sides by low-iron mirror panels and brass trim. Finding the right collaborators to install the bathroom was tricky, especially when it came to said wallpaper installation."
"Working with Wells Interiors was the right call as their team are well-versed in exactly this level of technical as well as aesthetic challenges and were absolutely up for it.  The result exceeded everyone's expectations and the ensuite is a real gem of simple lines, Japanese-inspired serene style and old-school glamour."