From inspiration to installation
On Tuesday, Wells Interiors jointly hosted an event called 'Luxury Wallcoverings 101', together with wallpaper and textile company Weitzner Ltd and the wonderful team from Altfield. The event was held under the beautiful brick vaults of the Crypt on The Green in Clerkenwell and was attended by influential interior designers and industry movers and shakers.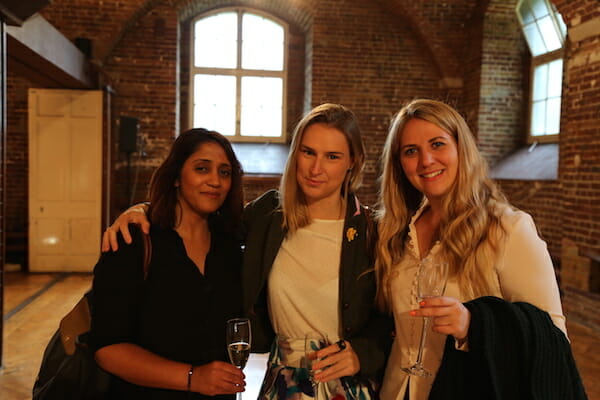 Over a glass or two of fizz and some delicious canapés, guests had an opportunity to catch up with colleagues and browse though some of Weitzner's gorgeous designs before gathering to hear Lori Weitzner speak.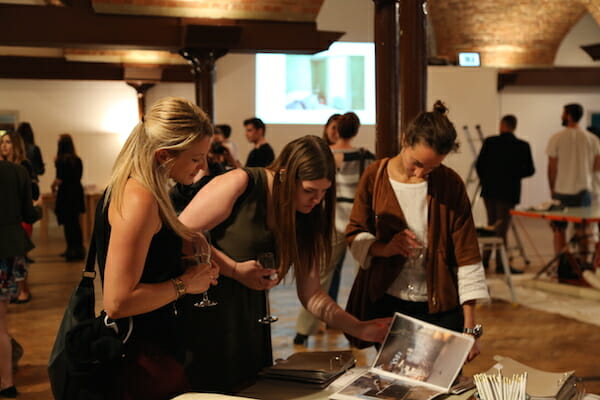 Lori had come over from New York especially for the event and her presentation gave us an insight into some of the design and manufacturing processes that go into her innovative designs. 
'Expect the unexpected – I'm always trying to surprise you!' said Lori. She is known for combining modern techniques with unconventional materials to create her beautiful products, and her success in this regard has been recognised with many industry awards. The wallcoverings she showed us in her presentation, all of which are suitable for both commercial and residential use, included Newsworthy, which is made from shredded newspaper; Magnetism, which has a magnetic layer under the linen surface; Quarry, which has a flexible layer of natural stone applied to a paper backing; and Ives, a delicate openwork pattern made from abaca and kozo.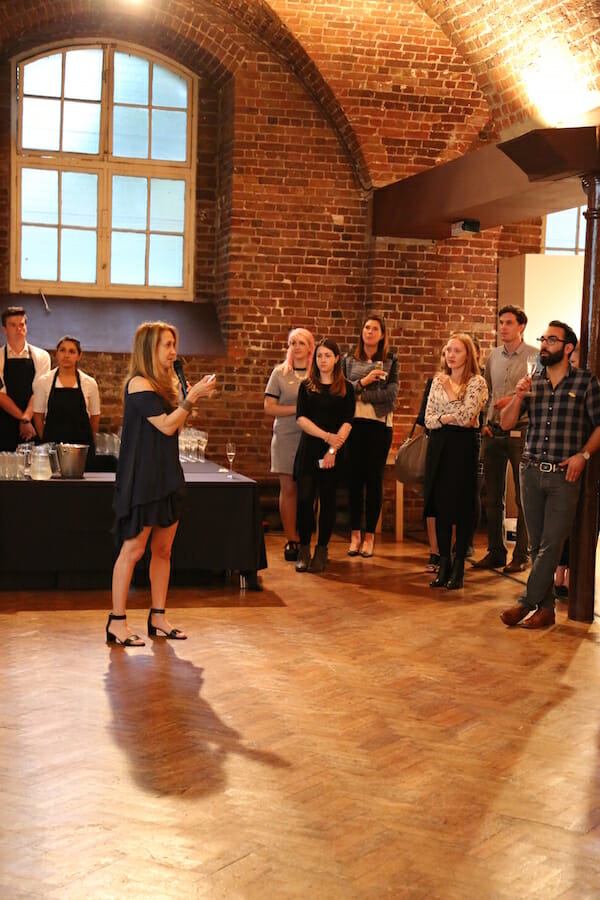 Both Lori and William from Altfield were keen to point out that a badly hung wallcovering will look terrible no matter how beautiful the design, and stressed the importance of using a specialist installer to achieve the best possible finish. Enter Wells Interiors! No challenge is too great for our crack team of installers, as they proved when they stepped up to the plate with not one, not two but three LIVE wallcovering installations.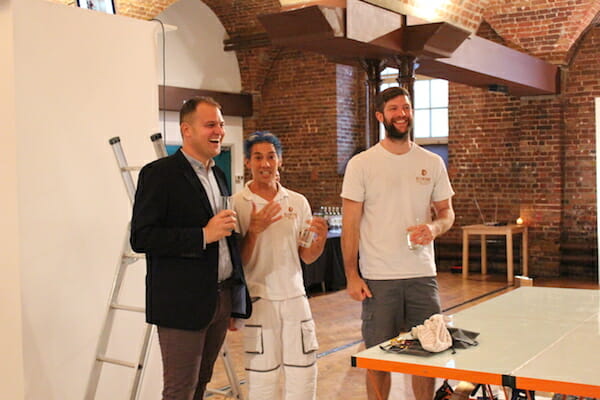 At the start of his demonstration, Nathan, our master installer, joked that he was breaking all three of his golden rules:
1) Never hang with an audience
2) Never hang after 4pm
3) Never hang with too much background noise
Despite all the pressure and distractions, Nathan and Dom's professionalism and focus shone through. The onlookers certainly learned a lot about the patience, skill and artistry that their job requires.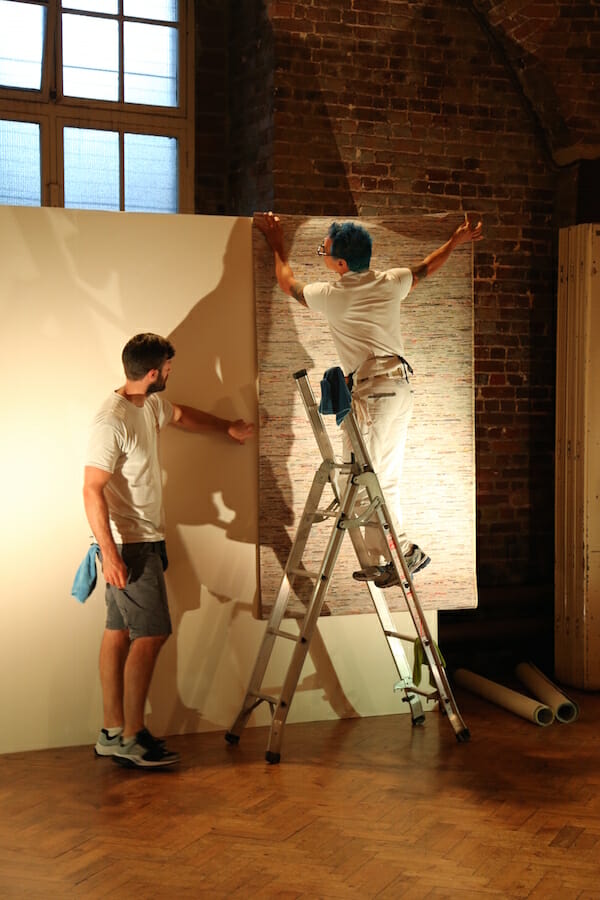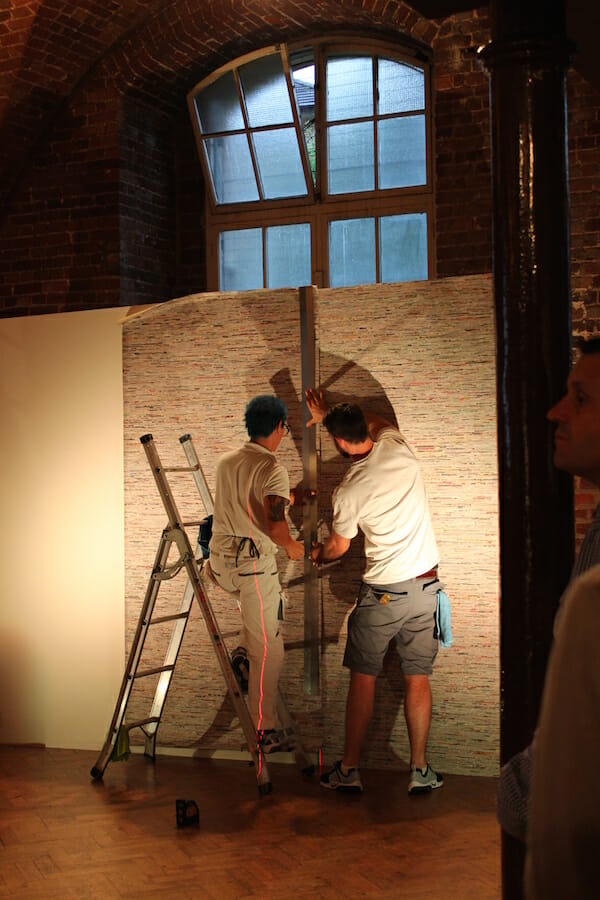 First of all, Nathan and Dom hung two lengths of Weitzner's Newsworthy, with Wells Interiors co-founder, Mick Wells, providing the commentary. The audience learned a little about the decisions that have to made – every job is different, and so choices such as whether to paste the paper or the wall and whether to bench trim or 'double cut' are made based on factors such as the working environment and the weight, material and finish of the wallcovering. They also talked about the instruments that are used to create a perfect finish and the measures that are taken to ensure (as far as is possible) that nothing goes wrong. 
Dom pasted the first drop on the table; for the second piece he pasted the wall and we were then shown the meticulous 'double cutting' technique. The edges of the two wallpaper panels were hung to overlap slightly and were then trimmed simultaneously, resulting in a perfect seam. This prompted some 'oohs' and 'aaahs' from the audience and was deemed 'the most beautiful seam I've ever seen' by Lori. High praise indeed!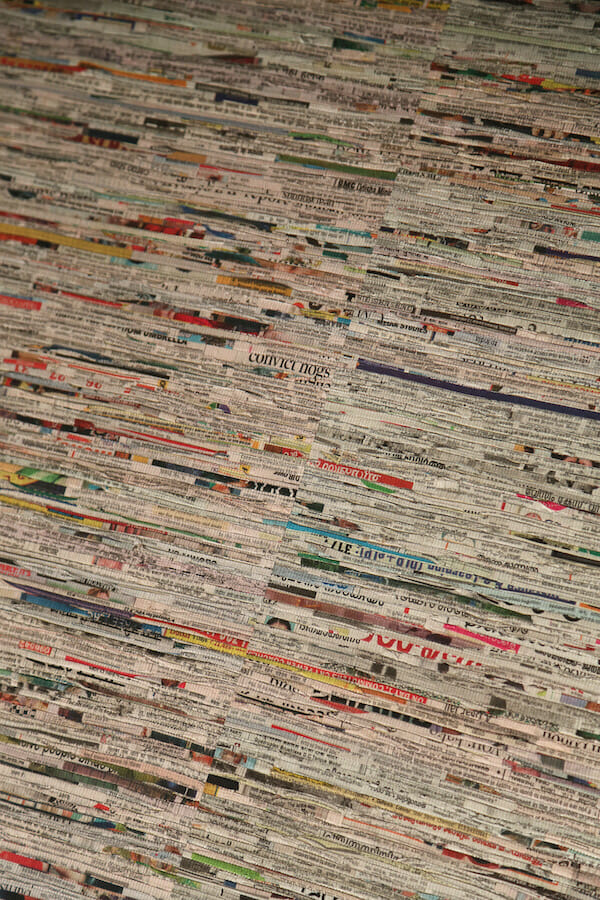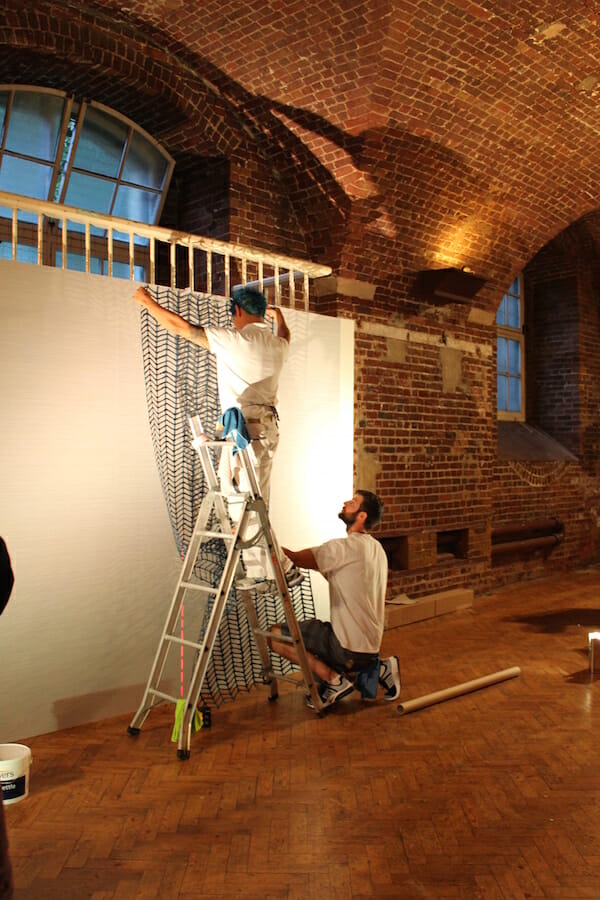 With reassuring confidence, Nathan and Dom then moved on to a wallcovering they had never installed before – Weitzner's Ives. The imperfections and quirks of this handmade product combined with the fragility of its openwork design make it tricky to prepare and install, but again Nathan and Dom made it look easy. They hung it over the top of Martine, a linen-like wallcovering that was already in place, so the texture of the paper below showed through Ives' herringbone pattern.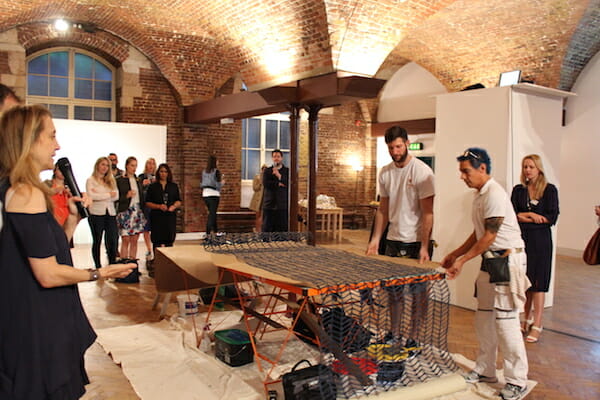 Last but not least, our team turned its attention to one of Weitzner's best-selling wallcoverings, a quilted faux suede called Madison. In addition to the complexities of dealing with a fabric surface, this design has the added challenge of having a stitched diamond pattern that needs to be matched. This involves aligning the pattern at eye level first and then working up and down the wall to secure each panel.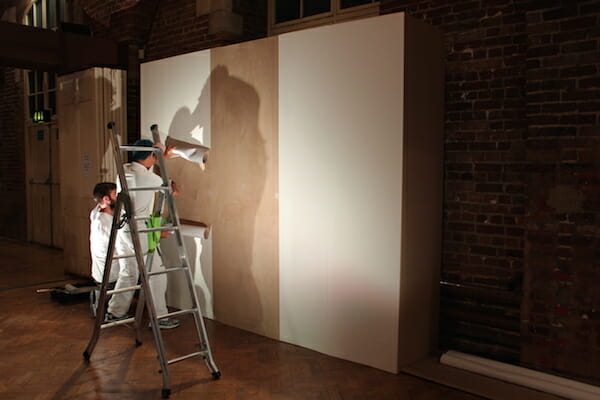 Mick and Lori explained that the quilting technique would result in inevitable pattern drift towards the top and bottom of the wall, but the final effect looked amazingly accurate to us! 
We'd like to thank our friends and colleagues at Weitzer and Altfield for helping to make this event a success. We hope that our guests enjoyed the evening and have been inspired by the wonderful wallcoverings that were on display, as well as the amazing craftsmanship of our very own Nathan and Dom. If you'd like us to be involved with your project, please don't hesitate to get in touch with us. But be sure to respect Nathan's three golden rules…!